Penerapan Teknologi Pengindraan Jauh untuk Identifikasi Padang Penggembalaan Alam di Kecamatan Pandawai, Kabupaten Sumba Timur
Bogarth K. Watuwaya

Sekolah Pertanian Pembangunan Negeri Kupang

Herlistin Mooy

Sekolah Pertanian Pembangunan Negeri Kupang
Keywords:
Padang rumput, Klasifikasi terbimbing, Kemungkinan maksimum, DEM
Abstract
Penelitian ini bertujuan untuk mengidentifikasi padang pengembalaan alam di Kecamatan Pandawai, Kabupaten Sumba Timur, Propinsi Nusa Tenggara Timur. Kecamatan ini memiliki tingkat populasi ternak ruminansia terbesar dan wilayah padang rumput terluas di Kabupaten Sumba Timur. Untuk menduga  kapasitas tampung padang rumput perlu dilakukan  suatu  rangkaian tindakan identifikasi untuk memperoleh data luasan, letak dan keadaan topografi. Identifikasi secara manual sangat membutuhkan waktu dan tenaga kerja, melalui pendekatan teknologi pengindraan jauh akan mempersingkat waktu, tenaga serta meningkatkan presisinya. Metode yang digunakan adalah klasifikasi terbimbing dengan alogaritma kemungkinan maksimum (maximum likelihood) citra Sentinel-2A. metode confusion matrix digunakan  untuk menguji keakurasian klasifikasi.. Klasifikasi kelas kelerengan menggunakan data digital elevation model dari DEMNAS. Hasil penelitian menunjukkan bahwa luas area non padang rumput sebesar 6.568 hektar, area padang rumput seluas 39.860 hektar. Hasil uji akurasi confusion matrix sebesar 91, 72%. Kelerengan terbagi dalam lima kelas, dimana luas area kelas 0 - 8%  (31.691 Ha), 8-15% (1.433 Ha), 15-25% (2.203 Ha), 25-40% (362 Ha) dan >40% (10.888 Ha).
References
Ahmad, A. (2012). Analysis of Maximum Likelihood Classification on Multispectral Data. Applied Mathematical Sciences, Vol. 6, 2012, no. 129, 6425 – 6436
Bengtsson J., J.M. Bullock, B. Egoh, C. Everson, T. Everson, T. O'Connor, P.J. O'Farrel, H.G. Smith & R. Lindborg. (2019). Grasslands—more important for ecosystem services than you might think. Ecosphere 10(2):e02582. 10.1002/ecs2.2582
BPS Badan Pusat Statistik. (2020). Kabupaten Sumba Timur dalam Angka tahun 2020
Cao, J., J.F. Adamowski, R.C. Deo, X. Xu, Y. Gong, & Q. Feng. (2019). Grassland Degradation on the Qinghai-Tibetan Plateau: Reevaluation of Causative Factors. Rangeland Ecology & Management, https://doi.org/10.1016/j.rama.2019.06.001
Dirjen Perluasan dan Pengolahan lahan. (2014). Pedoman teknis perluasan areal peternakan. Direktorat Perluasan dan Pengelolaan Lahan. Direktorat Jendral Prasarana dan Sarana Pertanian. Kementerian Pertanian.
ESA. (2020). ESA.int. The European Space Agency.
Hutchinson M. F. & Gallant, J.C. (2020). Digital Elevation Models and Representation of terrain shape. Terrain analysis : Principles and Apllications, Edited by Jhon P. Wilson and John C. Gallant. ISBN 0-471-32188-5. John Willey and Sons, Inc.
Ibrahim, A., A. Mashaqbah, B. Koch, & B. Datta. (2020). An evaluation of available digital elevation models (DEMs) for geomorphological feature analysis. Enviromental Earth Science 79: 336 Springer-Verlag GmbH Germany, Part of Springer Nature 2020.
Lillesand, T. M & R. W. Kiefer. (2007) Pengindraan Jauh dan interpretasi citra. Gadjah Mada University Press
Liu,Y., Z. Zhang, L. Tong, M. Khalifa, & QvWang. (2019). Assessing the effects of climate variation and human activities on grassland degradation and restoration across the globe. Ecological Indicators 106 (2019) 105504
Luque, A., A. Carrasco, Martin, A., & Heras, A. (2019). The impat of class imbalance in classification performance based on the binary confusion Matrix. Pattern Recognition 91.
McIlroy, R.J. (1976). Pengantar Budidaya Padang Rumput Tropika. Terbitan: Pradnya Paramita.
Newman, S.P. (2003). Maximum likelihood Bayesian averaging of uncertain model predictions. Stochastic Environmental Research and Risk Assessment 17. 291 – 305.
Nulik, J. & A. Bamualim. (1998). Pakan Ruminansia Besar di Nusa Tenggara. Balai Pengkajian Teknologi Pertanian Naibonat dan Eastern Islands Veterinary Servive Project. ISBN 979-95
Ren, J. Z., Z. Z. HuB, Zhao C, J., Zhang B, F. J. Hou, H. Lin L. & MuB X. D. (2008). A grassland classification system and its application in China. The Rangeland Journal, 2008, 30, 199–209
Sutaryono, Y.A & I.J. Partridge. (2002). Mengelola Padang Rumput Alam di Indonesia Tenggara. Department of Primary Industries Queensland
Tiscornia, G., W. Baethgen, A. Ruggia, M.D. Carmo & P. Ceccato. (2019). Can we Monitor Height of Native Grasslands in Uruguay with Earth Observation? Remote Sens. 2019, 11, 1801; doi:10.3390/rs11151801
Watuwaya B. K., J.A. Syamsu, Budiman, & D. Useng. (2020). Analysis of the potential development of beef cattle in East Sumba Regency, East Nusa Tenggara Province, Indonesia. IOP Conf. Series: Earth and Environmental Science 492 (2020) 012153 The 2nd International Conference of Animal Science and Technology https://doi.org/10.1088/1755-1315/492/1/012153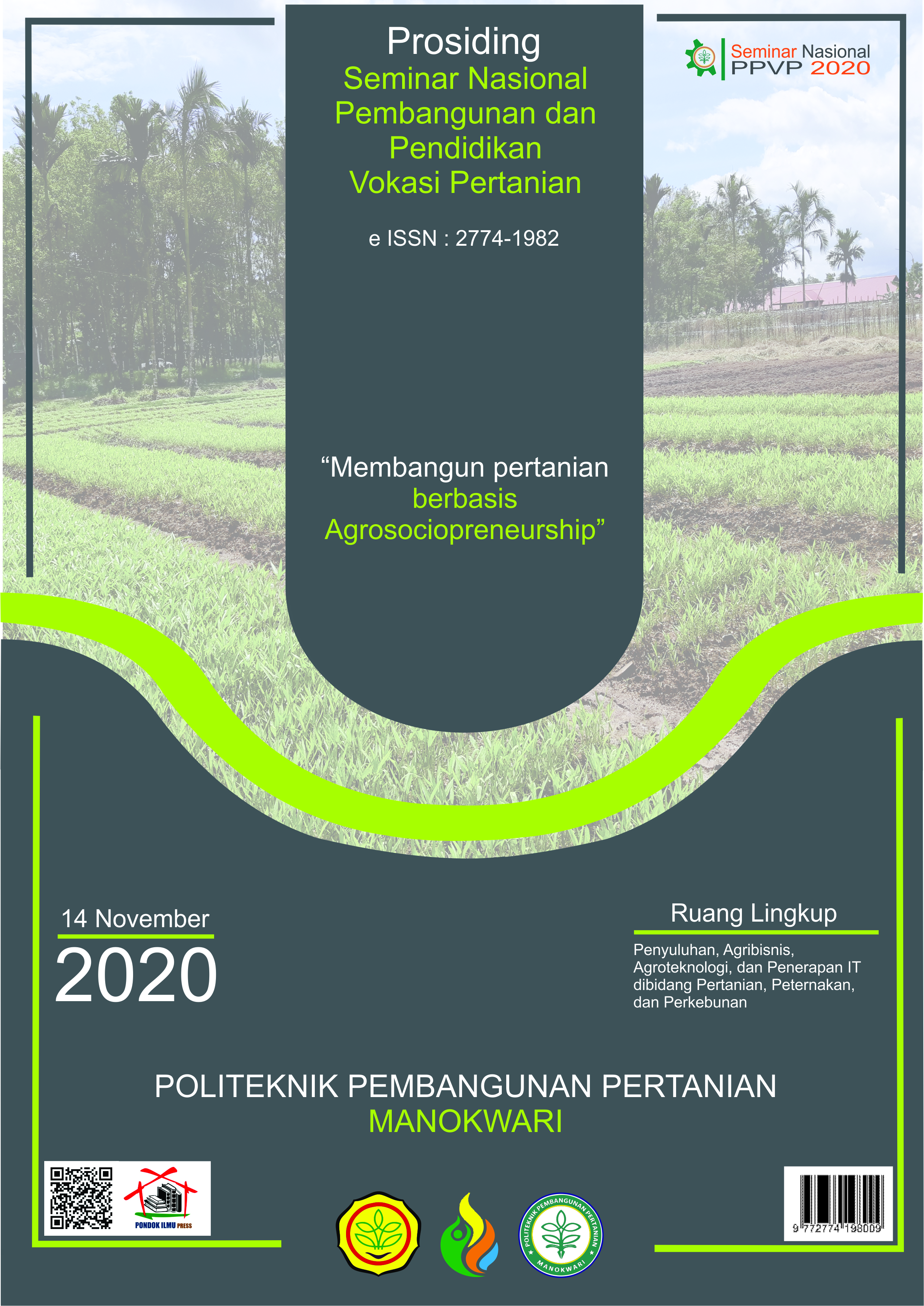 Copyright (c) 2020 Prosiding Seminar Nasional Pembangunan dan Pendidikan Vokasi Pertanian
This work is licensed under a Creative Commons Attribution-NonCommercial 4.0 International License.